A Queer Quarantine: Reimagining the New Normal through Queer Cinema
Rizky Rahad reflects on some of the most provocative queer films he revisited during quarantime, reimagining the endless possibilities of a new world.
This pandemic has dramatically exposed an imitative structure through which our identity, and the world itself, is constructed. It's a time that strongly resonates with a film movement that for decades has radically challenged the idea of identity as something fixed, coherent, and natural. Queer cinema has helped me reimagine the endless possibilities of a new world, so I thought I'd share my reflection on some of the most provocative queer films and readings I revisited this quarantine.
1 | Scorpio Rising (1963, Kenneth Anger)
---
The mid-century avant-garde cinema of Kenneth Anger, Jean Genet, and Andy Warhol is often considered to be the peak exercise of queer deconstruction for its rejection of coherent narrativity, despite rising way ahead of the queer discourse itself. The perfect crystallization of the movement, Scorpio Rising destabilizes dominant ideological symbols of masculinity, religion, and fascism by juxtaposing them into disorienting montage.
In less than thirty minutes, Kenneth Anger brutally renders masculinity fragile, religion mythical, and fascism evil, reapppropriating their repressive forces into a locus of queer freedom. After all, there is nothing more queer than a bunch of dudes in tight leathers yearning.
2 | The Bitter Tears of Petra Von Kant (1972, Rainer Werner Fassbinder)
---
At first glance, The Bitter Tears of Petra Von Kant seems to align us with the enigmatic Petra Von Kant and her dramatic life. But unlike typical Sirkian melodrama, it is Marlene, Petra's passive masochist servant, who truly represents our experience of the film. In a classic Brechtian style, Fassbinder uses Marlene's presence and her passive stares to spoil our own process of spectatorship and destroy the pleasure of our voyeurism over a woman's private life.
Pleasure in Petra Von Kant then manifests differently for queer audience. Through the excesses and bursts of Petra's outrageous behaviors, the film reflects our momentary liberation in the midst of such repressive forces of society and the cinema itself.
3 | Pink Flamingos (1972, John Waters)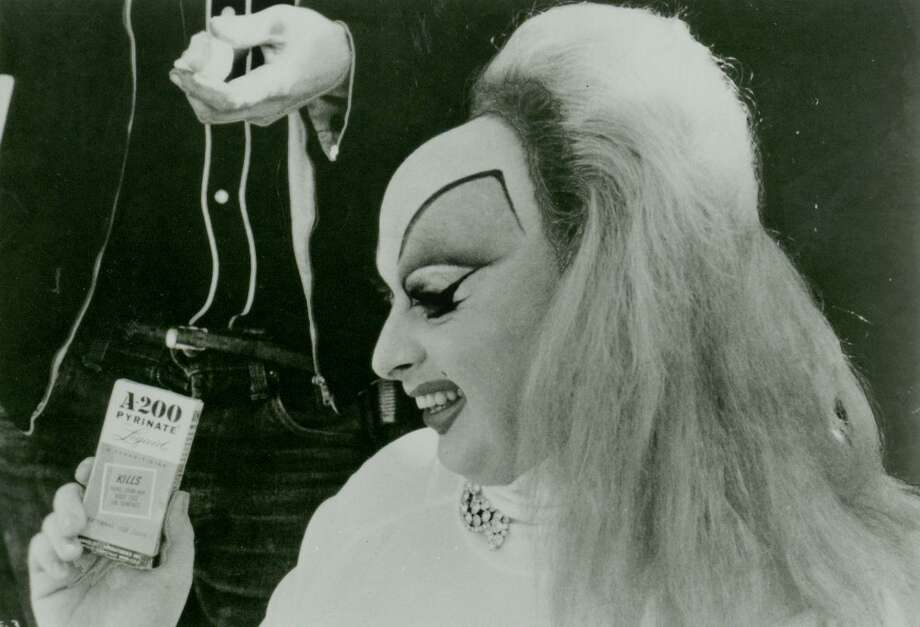 ---
What makes Camp films like Pink Flamingos appealing to the queer audience is not necessarily its association with the queer effeminacy; it's the exaggerated and over-the-top aesthetics that interrupts many of Modernism's notions of art, class, and beauty.
It's good because it's awful! -Susan Sontag, 1964
In Pink Flamingos, excesses in narrative, performance, and mise-en-scene embodied by Divine, not only mock classic Hollywood's crime formula, but also transgress its rationality and morality beyond its boundaries. It's so unsettling that we burst into laughter. There is surely a queer utopian vision in Pink Flamingos for reimagining the norms of our world where the "filthy" are in charge is at its heart a queer endeavor.
4 | Paris is Burning (1990, Jennie Livingston)
---
Through drag balls' repeated performances of gender-crossing gestures, Paris is Burning forces us to acknowledge the "realness" of the characters' gender transformation, giving these characters the "fame" they always craved for. But in imitating gender, these performances also work to reveal the imitative structure of gender itself, proving that gender is a "cultural fiction" (Judith Butler, 1990).
Although Paris struggles to escape the filmmaker's white gaze, it's still a national treasure that laid the groundwork to positive queer representation in mainstream media. Without Paris is Burning, we wouldn't have Rupaul's Drag Race, Pose, or Frank Ocean's 30th birthday party.
5 | Dottie Gets Spanked (1993, Todd Haynes)
---
In less than thirty minutes, Dottie Gets Spanked effectively explores a young suburban boy's fascination with a television sitcom star named Dottie as a way to bring attention to our own unconscious process of identification with fictional characters. In a classic Lacanian style, the film reinforces the notion of identity as an effect of ongoing identification with and against others, rather than something that's given. But what makes Dottie incredibly cathartic for queer audience is the way it magically transforms patriarchal repression into a wild and outrageous dream sequence, giving affirmation to our "unnatural" and "deviant" (oedipal) desires.
Such transgressive restaging of desire is a motif repeated in Todd Haynes' later works, including his most popular melodramas like Far from Heaven and Carol. In the Haynes universe, the fantasy endures even after the credit sequence rolls up.
6 | The Watermelon Woman (1996, Cheryl Dunye)
---
History makes visible certain stories and neglects others. A queer approach to history should radically defamiliarize our ways of knowing the past and read queerness in-between where it doesn't seem to exist (Scott Bravmann, 1997). In The Watermelon Woman, Cheryl Dunye reimagines how queerness would have manifested in the past through a fictional black lesbian actor living in the shadow of Hollywood's golden age.
As "history proper" lacks queer references, Cheryl rewrites history through "popular memory," connecting the past to her own perceptions in the present. The Watermelon Woman ultimately envisions a more complex queer visibility that the history and cinema itself has rendered invisible.
7 | All About My Mother (1999, Pedro Almodovar)
---
Classic Hollywood films relied their fantasy on heterosexual male gaze for decades. This monopoly of pleasure must be "attacked" to make cinema more inclusive to a marginal audience (Laura Mulvey, 1986). All About My Mother brilliantly depicts a perverse star image that's disengaged from binary differences to enable identification of audience across gender and sexuality. Through the stars' subversive characteristics, Almodovar successfully reenvisions a marginal desire and gives pleasure and satisfaction to queer spectators. In Almodovar's melodramas, masculinity is fragile and the fantasy is queer.
8 | Tropical Malady (Apichatpong Weerasethakul, 2004)
---
In postcolonial storytelling tradition, allegory is often used to get around censorship and allude to forbidden topics. This digressive structure is heavily queer in principle for its refusal of linear pathway (Schoonover and Galt, 2016). Tropical Malady, for instance, diverts from a realist narrative of queer romance into a surreal vision of mythical tiger at the moment that realism is no longer "safe." However, rather than erasing the desire, the allegory sublimizes it.
When the tiger devours the soldier, there is a sense of radical liberation where queer desire can live mythically beyond the limitations of the State. The fact that this desire is articulated in the darkness of the jungle gloriously rejects Western liberal homonormativity of 'coming out'. Tropical Malady reclaims its freedom by coming in.
9 | Tangerine (2015, Sean Baker)
---
An ultimate queer experience is constructed around ceaseless movement–always looping back, never arriving, always bouncing, never landing. Tangerine brilliantly embodies this complexity through the structure of hustling. The heroines' constant transition between places and plot points, coupled with the perpetual feeling of heat from the tangerine color palette, gives a sense of urgency. It's a bold statement of existence, that queer is always here and happening, not just for anyone's pleasure.
10 | Memories of My Body/Kucumbu Tubuh Indahku (2018, Garin Nugroho)
---
No nation is more blind to its queer past than Indonesia and there's only one way to rescue it: we must reenact the history itself. Memories of My Body retraces queerness in Indonesian history through remembering the journey of Juno's body. Like a pendulum, Juno bounces between two polars of gender throughout the film, making visible the many expressions of gender that have been systematically excluded from indonesia's collective memory.
Although Memories at times still struggles to dismantle the binary itself, it's still one of the most provocative queer films coming out of the country.
---
Rizky Rahad is Jakarta-based filmmaker specializing in post-modern representations of the fringes of Indonesian society. He's passionate about queer, indigenous, and exploitation cinema. Follow him @rich.rahad.
This is an exclusive article on Queer films for Jakarta Cinema Club, from our contributor to you
Cover photo: Scorpio Rising (1963)
Also read: Mengenal Pride Month lewat Media Film